Wisteria Fragrance Oil, 1/2 fl oz (15 mL) Dropper Bottle, 2 Dropper Bottles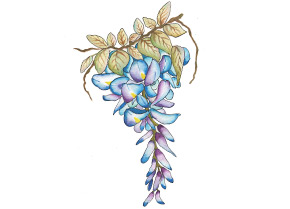 Close your eyes and inhale the lovely aroma of our Wisteria Fragrance Oil, and imagine yourself below a canopy of these flowering vines, with gorgeous purple flowers cascading around you in dreamlike violet waves… A member of the pea family, wisteria is a showy ornamental vine native to the eastern U.S., China, Korea, and Japan. For many, they signify the very essence of spring, their lovely floral scent captivating the senses—a scent we've captured in our elegant Wisteria Fragrance Oil!
Fragrance
An alluring exotic, white floral scent that is lovely on its own and elegant with other florals
Flash Point
234°F
History of Wisteria
Wisterias are notably hardy plants; they can climb to a height of 65 feet off the ground and spread laterally up to 32 feet. The largest known wisteria, planted in 1894, thrives in Sierra Madre, California. This massive vine is 1 acre in size and weighs more than 250 tons! Wisteria also hold a significant place in Asian cultures; in Japan, Fuji Musume (or "Wisteria Maiden") is often depicted in Japanese folk paintings, which are sold as good luck charms for weddings.
How to Use Wisteria Fragrance Oil
Add the floral aroma of wisteria fragrance oil to your candle making, incense, potpourri, soaps, deodorants and other bath and body products!
To learn how to make your own unique homemade candles, check out this simple step-by-step on The Pipe Line!
Other Sizes

Related Products