Experience the Tropics in Each Bite!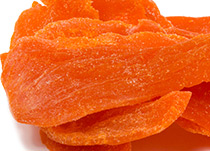 Lose yourself the sensation of light, sweet flavor in each Piping Rock Dried Mango Slice! Its pleasant flavor dances across the palate, and paired with its delectable texture, these slices are simply candy from nature, and make for the perfect snack any time of day!
A famously juicy stone fruit, mangoes thrive in the tropics, growing on evergreen trees that are native to South and Southeast Asia. These fruits boast notably bright orange, red and sometimes green skin that hides its fleshy, juicy pulp.
Now you can enjoy this snack any time, any place, guilt-free!
Other Sizes
Related Products