What is Himalayan Salt?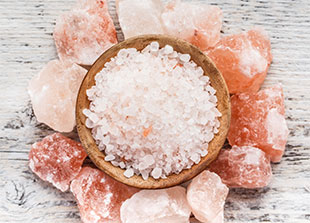 Also known as halite, this ancient pink, mineral-rich salt can be naturally found deep within the pristine Himalayan Mountains of Pakistan. These rose-colored crystals are traditionally hand-mined and are considered to be the purest salt available, thanks to the 250 million years spent patiently waiting beneath a hardened layer of volcanic lava, which protected the beds from modern-day pollution.
What are the benefits?
Himalayan pink mineral salt supplies an abundant amount of beneficial minerals, electrolytes and other elements that make it a must-have in any healthy lifestyle. It naturally contains, as the name would suggest, sodium chloride (salt).
How do I get started?
There are many ways to incorporate Himalayan pink mineral salt into your healthy lifestyle! While many use it as a substitute for normal table salt in cuisines, it can also be used in neti pots and other salt air therapy applications, as well as in bath salts and homemade soap scrubs.
Other Sizes
Related Products