The Epitome of Snacking with a Kick!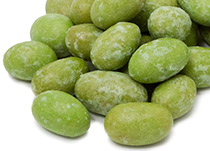 An increasingly popular snack, wasabi peanuts combines the sweet, crunchy goodness of peanuts with the sensational spiciness of wasabi. You'll get a kick out of snacking each time you indulge in Piping Rock's Wasabi Peanuts.
Enjoy them as a snack on-the-go, in Asian-inspired recipes or any of your favorite dishes that could use an extra kick!
Grown in Japan's ideal soil, wasabi is harvested from the stem of the plant of the same name. Its distinct flavor can be found in many Japanese cuisines, adding its spicy mustard-like hotness to any dish. When combined with the natural sweetness of peanuts, legumes enjoyed throughout the world, it's no wonder why these snacks have taken off in popularity!