Snackin' Green Peas, 1 lb (454 g) Bag, 2 Bags
It's Easy Snacking Green!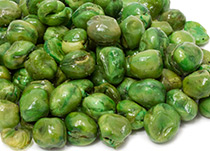 Now here's a snack the whole family will enjoy! Piping Rock's Snackin' Green Peas are lightly salted and fried in vegetable oil to add the perfect crunch to this popular snack.
Crunchy and savory-sweet, indulge in these green peas on their own, use in your favorite recipes, add a special crunch to salads and more!
The seed of the familiar Pisum sativum pods, peas are grown in gardens around the world as a vegetable crop. Peas are starchy, yet contain fiber, protein, vitamins A, B6, C & K, as well as phosphorous, magnesium and other beneficial nutrients.
Other Sizes
Related Products