A Wake-Me-Up for Your Taste Buds!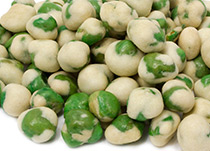 Craving a snack that'll make your taste buds say, "Wow!"? Look no further than Piping Rock's Wasabi Green Peas!
Spicy, crunchy, and certainly eye-opening, indulge in these hot peas on their own, make your own Asian-inspired trail mix, add a spicy crunch to salads and more!
The seed of the familiar Pisum sativum pods, peas are grown in gardens around the world as a vegetable crop. Peas are starchy, yet contain fiber, protein, vitamins A, B6, C & K, as well as phosphorous, magnesium and other beneficial nutrients.
Other Sizes
Related Products