Pine Nuts (Pignolias), 8 oz (227 g) Bag, 2 Bags
Small in Size, Big in Flavor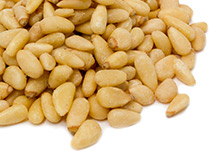 Also known as pignolias, pine nuts have made their way into the flavor hall of fame! Delicately sweet and nutty, pignoli nuts shine when roasted, which brings out their full flavor profile.
A naturally good source of monounsaturated fats such as oleic acid, manganese, protein and vitamins B, E & K, add Piping Rock's fresh Pine Nuts to your daily menu for a healthy snack or as your recipe's secret ingredient.
There are 20 species of pine trees in the world that produce pine nuts large enough for human consumption. These small, unassuming nuts are hand harvested from the scales of pine cones which is why they are typically on the pricier side of nut options. They are certainly worth it as pignolias make a fantastically irreplaceable addition to salads, sauces and baked goods, especially in classic pesto recipes!
Other Sizes
Related Products