Dried Vegetable Chips, 1 lb (454 g) Container
Temporarily Out of Stock
Please check back soon
Trust Us, You Can't Have Just One!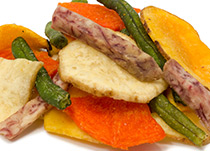 Now here's a fun way to enjoy your veggies during the day! A perfect mix of crunchy and flavorful, Piping Rock's Dried Veggie Chips combine sweet potatoes, squash, carrots, green beans and taro to present a deliciously healthy snack any time of day.
Enjoy each handful knowing these dried veggies are not only of the highest quality, but jam-packed with nutrition as well.
Place this colorful medley in a bowl during your next get together, use them in your next recipe, or keep a bag in your office desk as a tasty treat during the workday!